July 15-19, 2012 I had the privilege to attend The Lamarr School of Photography in Columbia, SC on the campus of USC.  There was an awesome lineup of instructors for the week– Ken Sklute, Hanson Fong, Louis Tonsmeire, and Jen Hillenga— and we had to choose ONE.  Just one.  What a hard decision!!!  But alas, after reading and then re-reading the class descriptions a few times, I chose to spend my week being instructed by Ken Sklute.  His class was It's All in The Light, Part II. If you talk to any professional photographer, light is key.  And if you check out Ken's work (and you really should!), you can see that he has definitely mastered the art of important light in photographs!  Therefore, having insight into his knowledge base about lighting sounded good to me!  I'm so glad I chose Ken's class!  And not only was he a fabulous and passionate instructor, but all the photographers in our class were awesome as well; so… great friends were made along the way too, which is an added plus!  I can't wait until next year!
Now, while in class I was fully immersed into what was unfolding that I didn't even think to snap some behind the scenes shots (for purposes of this blog post), but fortunately one of the fellas in our class did and I'm so thankful!  So… many thanks to Clark Berry for that!  Here's a little of what we did in class courtesy of Clark.
The first day after lunch we moseyed over to Capital City Cycles with two models and utilized their facility as a backdrop for some gorgeous photos for these two young ladies.  Let me just add too, this location and all the others were so nice to let a group of 15 or so photographers and all our gear invade their locations for about 2 hours each day!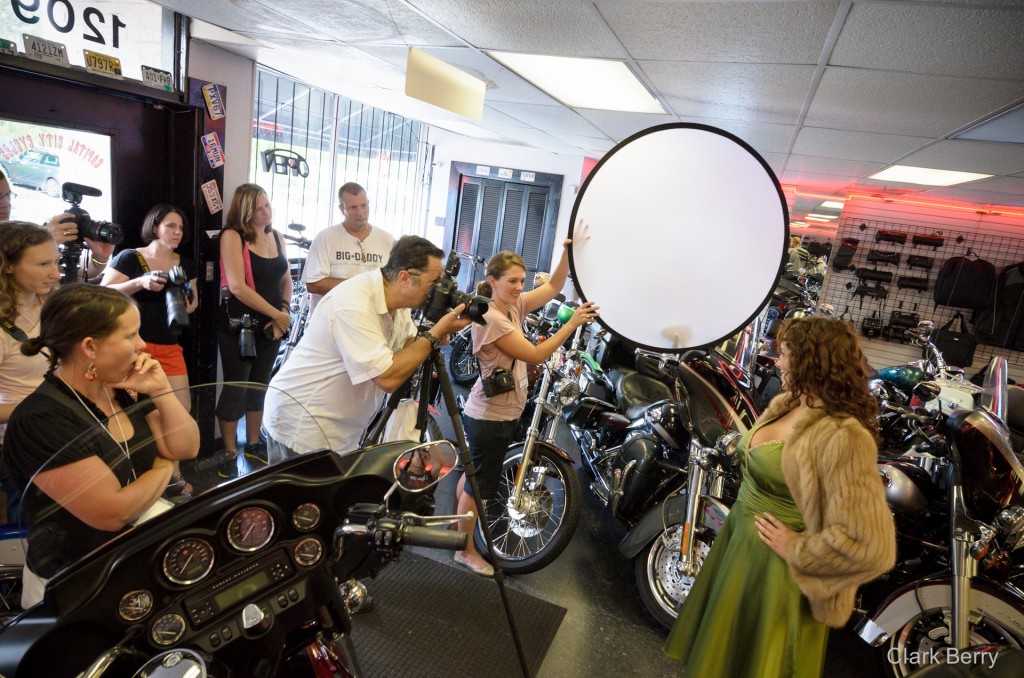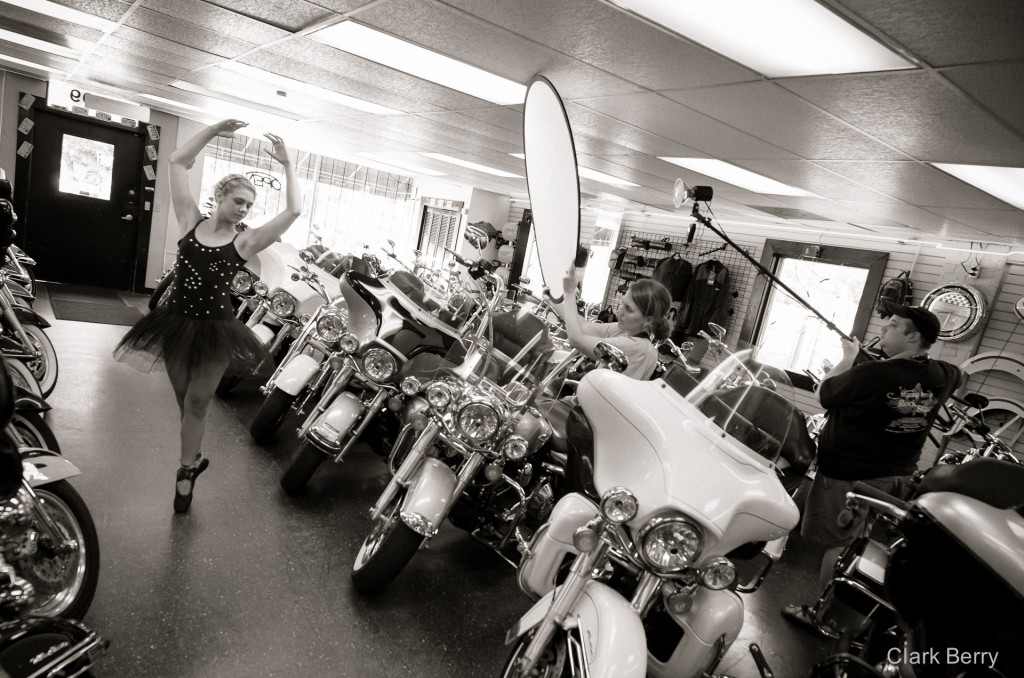 Here's our class being all bad to the bone! LOL  Photo by Ken Sklute.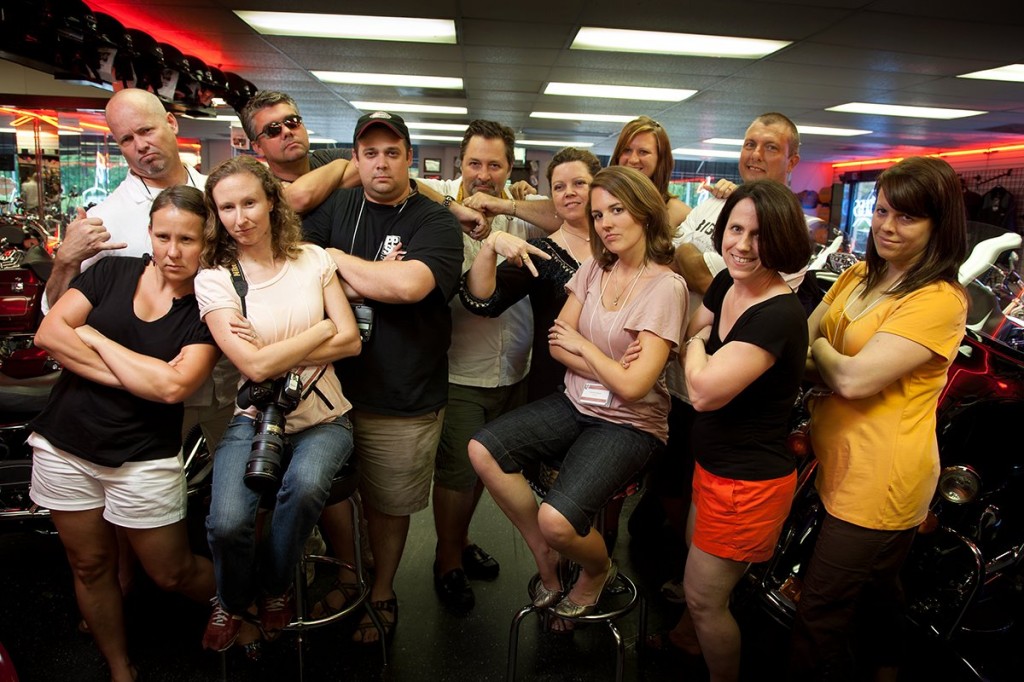 The next day after some time in the classroom, we made our way over to a restaurant called Mr. Friendly's.  We were instructed to break into groups and capture this restaurant in a way that might would be needed for a magazine article while incorporating some of the lighting elements we had been learning about in class. Let me just say, 4 groups of 3 was A LOT for this quaint little restaurant; however, our group finally managed to sneak into place and capture this shot of the restaurant.  This is Dave Gilbert from our class, but ultimately we worked in the manager for a shot. 🙂  I was in the group with Clark, so once again, using the image from his camera since I was off to camera-right holding the reflector. 🙂  Ladies and gents, using speed lights, we illuminated the logo in the background and successfully used short lighting on good ole Dave here.  And as a side note, not only is Dave a photographer, but he's the founder of PartyTime DJ's in our area, in case you are ever in need!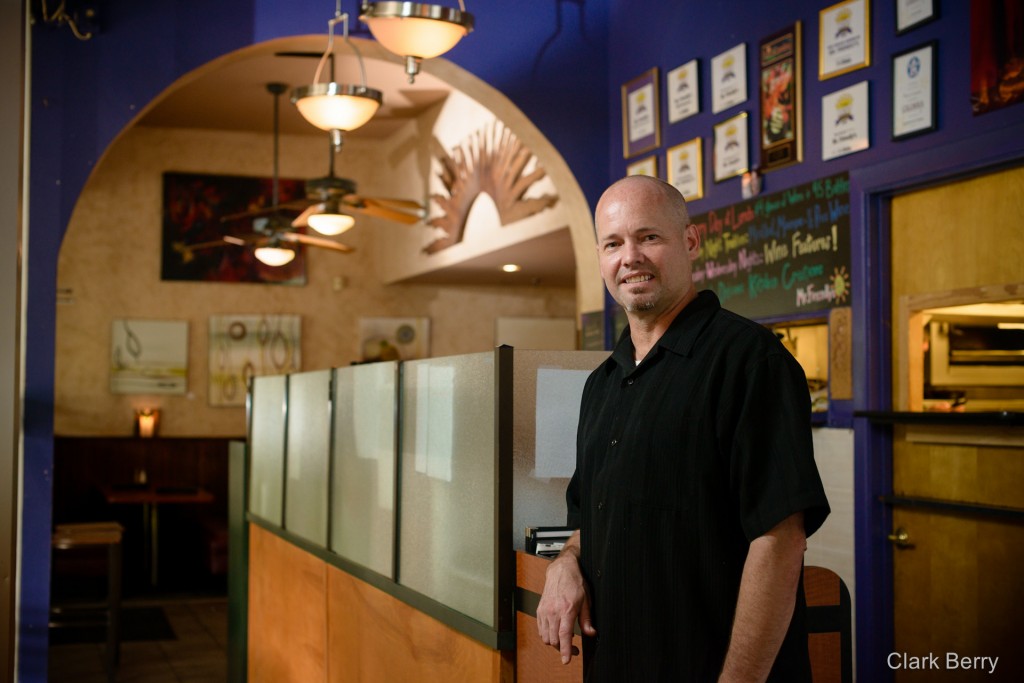 And another group shot. I just love this class! 🙂 Photo credit to Katie Hart here!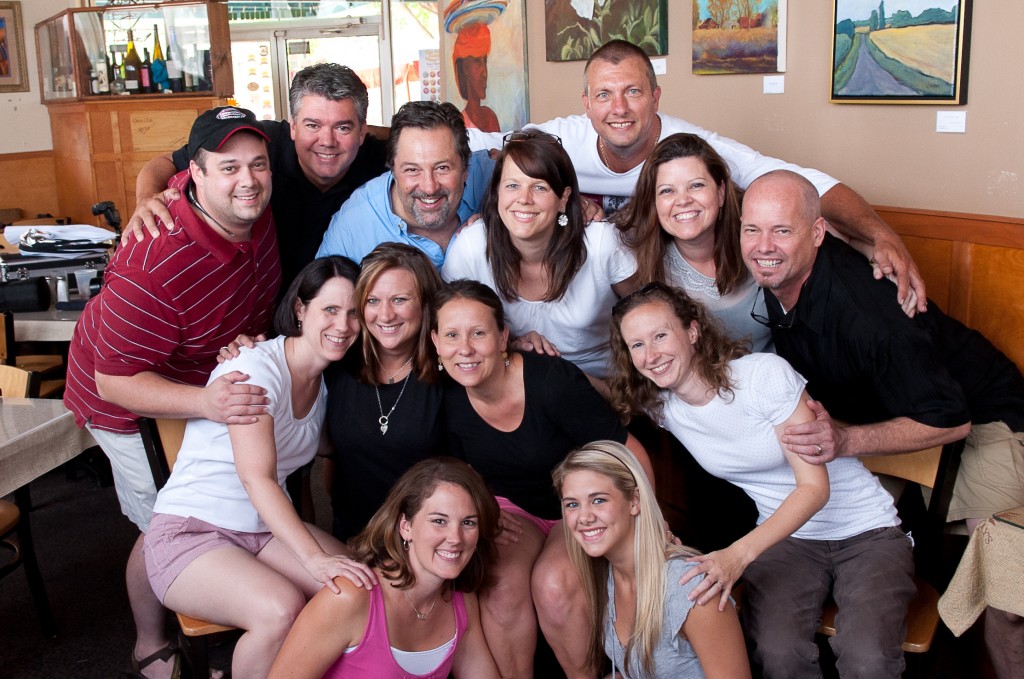 The third day, again, after spending some time in the classroom, we ventured out to another location.  Same scenario… capture it as if you were doing an article about it.  Here we are at Body Rites Tattoo.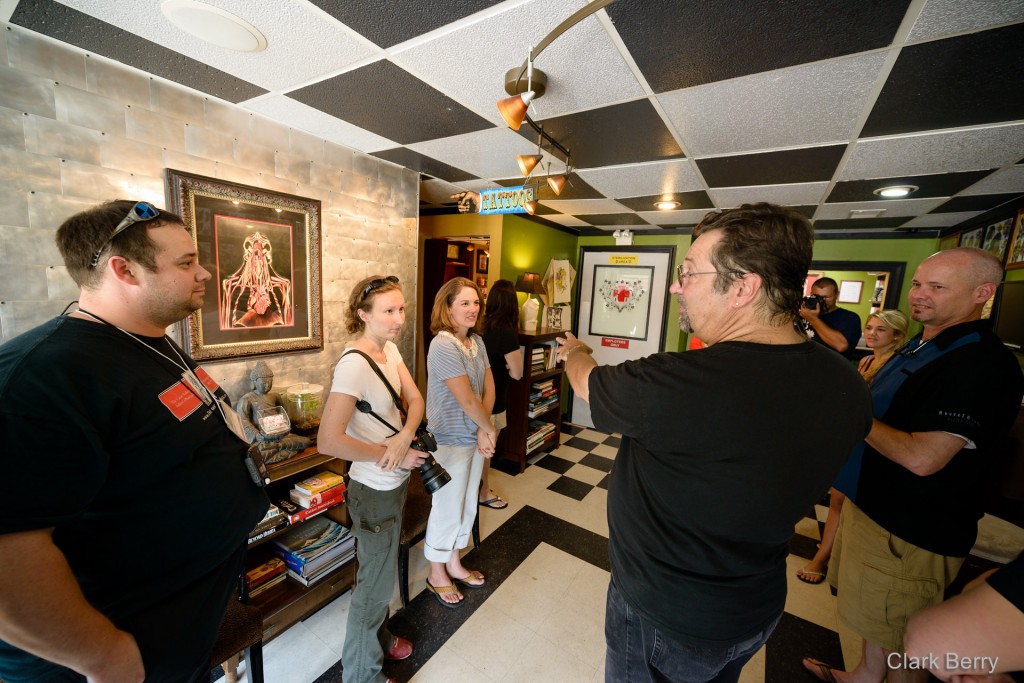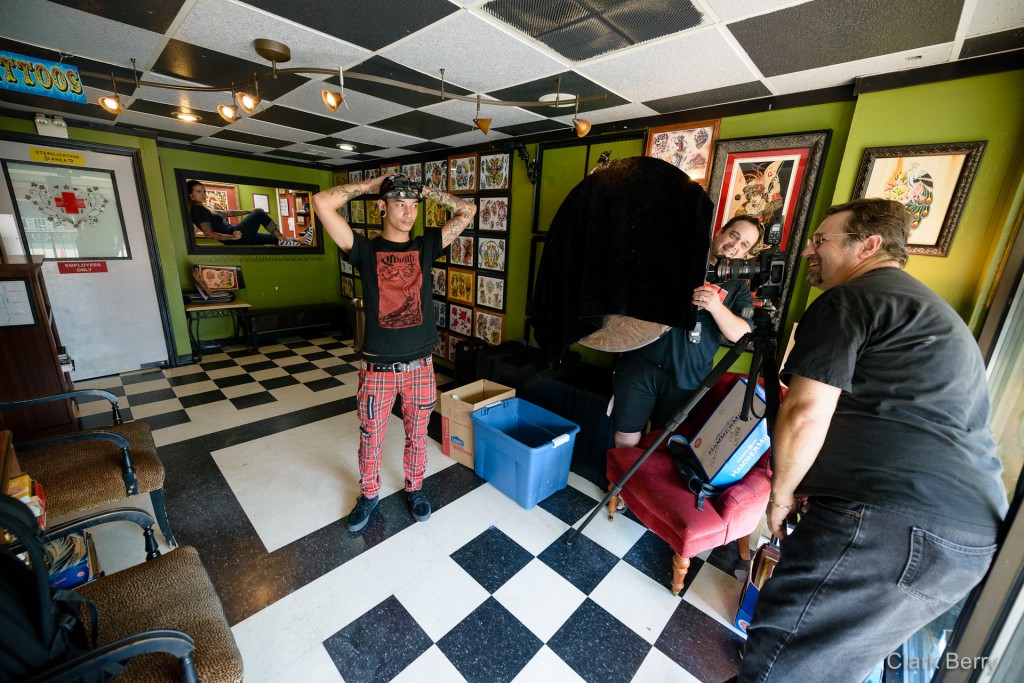 And sadly, the week had to come to an end.  We ended our week in the suite of the Inn at USC for a very tasteful boudoir shoot!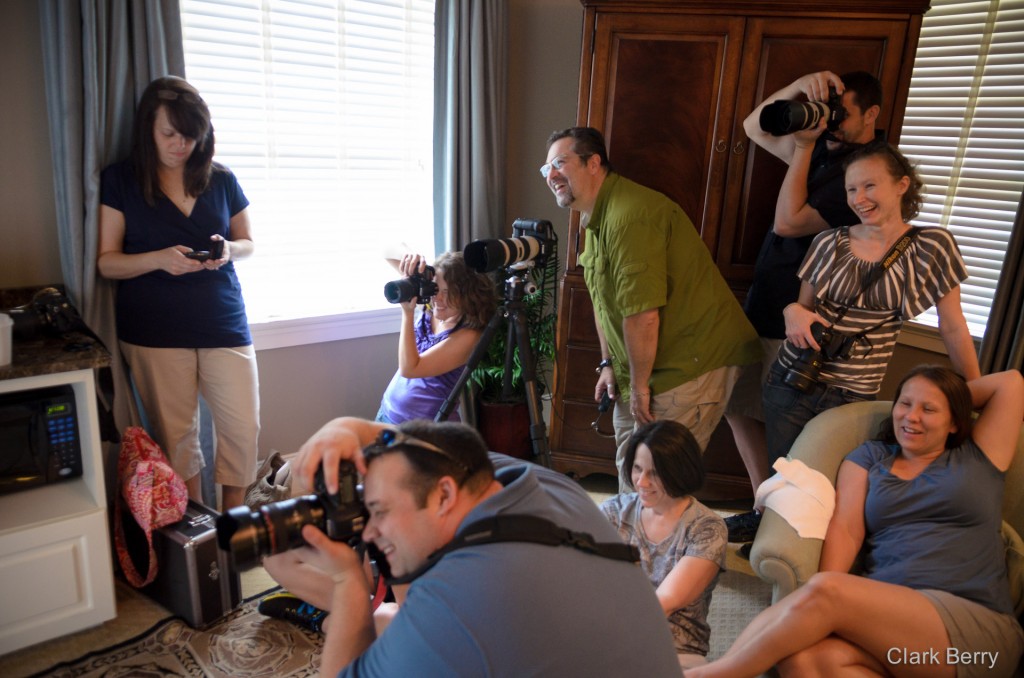 Each night we also had what they called 'shoot-outs' where all Lamarr School students could join in together. Each night was a different concept after having polled the audience on the Facebook group as to what they wanted to learn how to do. The first night, we ventured out onto Gervais St. with a couple of brides to learn how to capture a still shot, but incorporate passing cars while leaving them in motion.  These shoot-outs were fun no doubt, but it was hard to really practice the concept unless you were able to plug into the lighting gear brought by the one in charge; or by bringing your own gear, but then again, there were so many people that setting up with your own gear would have been a challenge. So I really have only one descent shot from that night that displays what was trying to be accomplished.  Meet sweet Vikki!  And notice the cars passing in the background. 🙂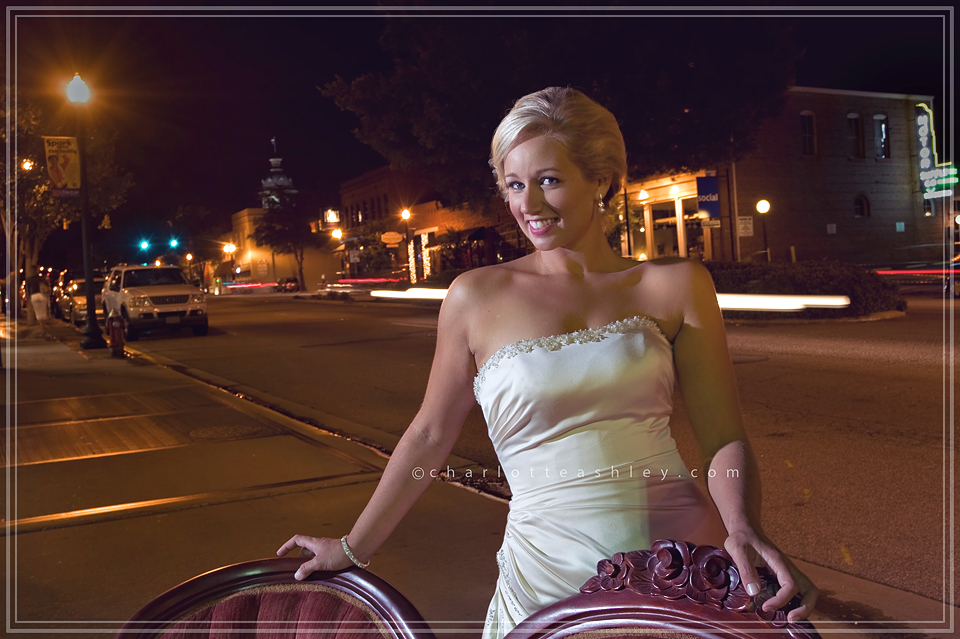 The second night a band volunteered their evening to be subjects for about 50 photographers. LOL  We photographed them in the parking garage and let me tell ya it was HOT this night.  Here they are after having about 1578 photos made of themselves… the New York Disco Villans.  They were such good sports!  I, again, wanted to wait and sneak in with my off camera lighting, so… meandering through all the photogs, here's one shot that I managed to snag! 🙂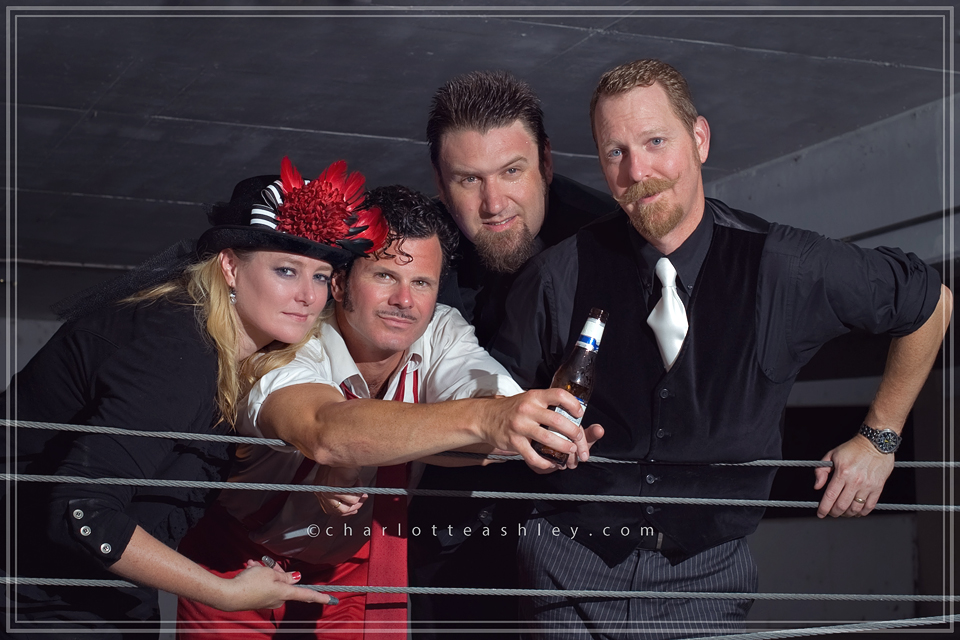 And the last evening of shoot-outs we photographed high-key and low-key scenarios.  High key meaning light tones throughout the image.  So what better than a bride in a white dress against a white background!  The challenge being to not lose the detail of the dress!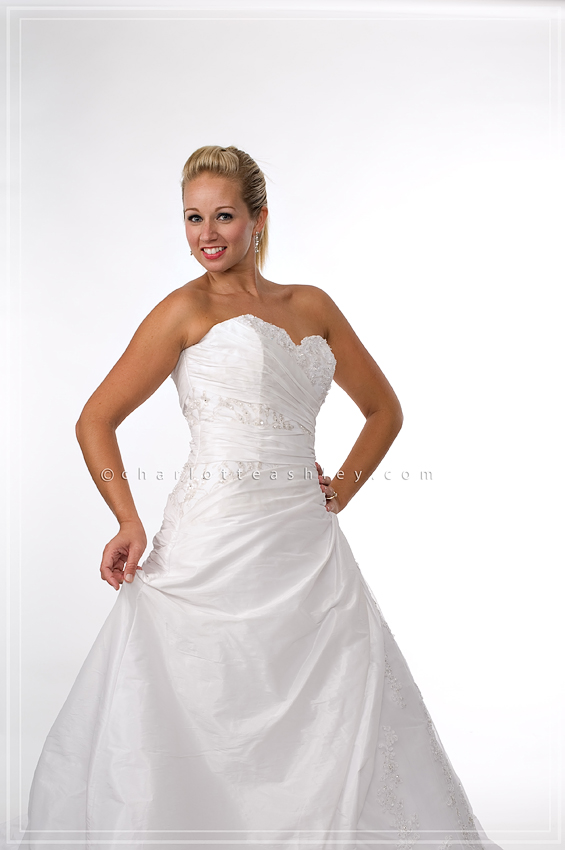 And… a low key scenario meaning dark tones throughout the image.  Now please check out this DRESS!!!  This dress is made out of trash bags and was concocted in about a 20 minute span by another of the Lamarr School instructors, Jen Hillenga.  Just fabulous!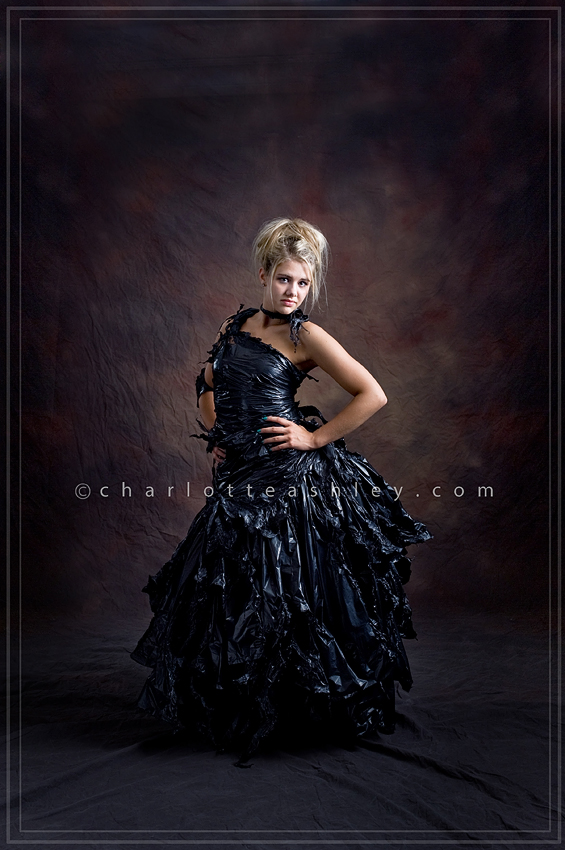 After all was said and done this evening, a group of us coaxed sweet little Sydni into even more modeling, stretching the time out close to midnight. She was such a trooper!  I was so fortunate to be able to join in with this group who were interested in experimenting with light painting, a concept done in complete darkness with simply a flashlight… or some means of lighting the subject.  Sometimes you see light painting done with sparklers at a wedding.  But here, all we had was a flashlight.  Again, making time for each photographer to have a chance (and use the tripods) here is one frame that I captured that turned out pretty cool!  I cannot take full credit for this photo though because it was a collaboration of efforts.  David Junker was the guy 'painting' the light while I photographed it!  Look… he even short lit Sydni! LOL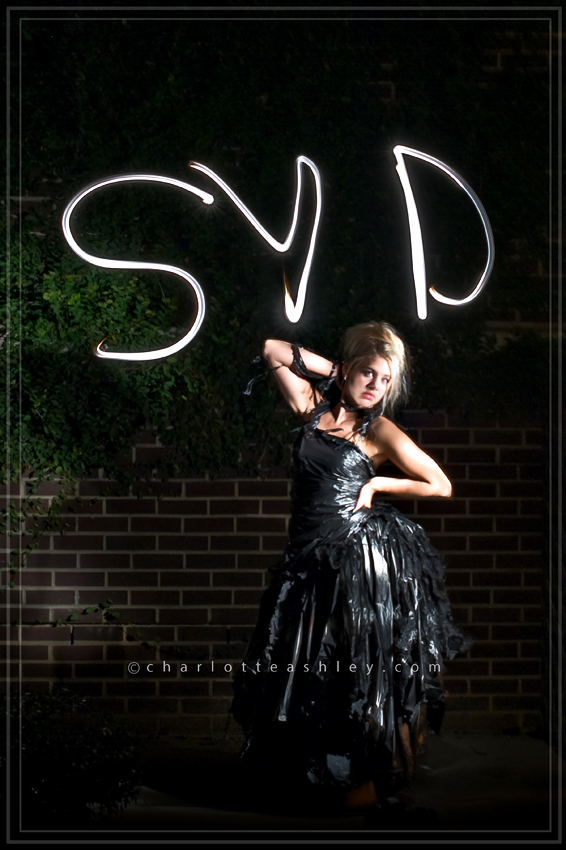 And if you are interested in learning more about light painting, the guy that initiated this little adventure has posted some information and 'how to' steps on his blog with some awesome pictures as well!  Check it out!  Thanks Travis!
So… all in all, we had a BUSY week.  Phew!  I was exhausted by the time I got home on Thursday, but I'm so refreshed and full of new ideas, which is what any artist needs in order to keep motivation alive! 🙂  I'm so, so glad that I was able to attend The Lamarr School of Photography this year!  And I owe a HUGE and special "thank you" to my aunt and uncle who believe in me so much that they made this week financially possible for me!!! Love y'all!!!